The Accident of Color: A Story of Race in Reconstruction (Paperback)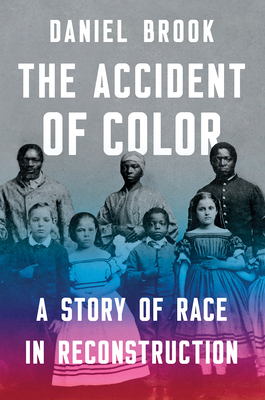 $17.95
Coming Soon - Available for Pre-Order Now
Description
---
A "provocative" (Kirkus Reviews) technicolor history of the first civil rights movement and its collapse into black and white.
In The Accident of Color, Daniel Brook journeys to nineteenth-century New Orleans and Charleston, where free biracial people exercised many rights of citizenship and fought to secure them for all after the Civil War. In coalition with the formerly enslaved and allies at the fringes of whiteness, they notched significant victories—like desegregating streetcars and schools—and launched an audacious legal strategy to defeat racism by challenging race itself.
Tragically, all was swept away by a violent political backlash, culminating in the Jim Crow laws that would legalize segregation and usher in a binary racial regime that endures to this day. By revisiting a turning point in the evolution of America's racial system, this "poignant and powerful book" (Library Journal) brings to life a moment from our distant past that illuminates the origins of the racial lies we live by.
About the Author
---
Daniel Brook is a journalist and author whose writing has appeared in Harper's, the New York Times Magazine, and the Nation. Born in Brooklyn, raised on Long Island, and educated at Yale University, Brook lives in New Orleans, Louisiana.