Mecca: A Novel (Hardcover)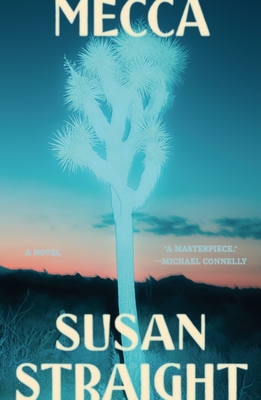 $28.00

Coming Soon - Available for Pre-Order Now
Description
---
"A heartbreaker from beginning to end, Mecca both shocks and moves in its powerful and unrelenting portrait of this sunny, fiery state." --Viet Thanh Nguyen, author of The Committed

From the National Book Award finalist Susan Straight, Mecca is a stunning epic tracing the intertwined lives of native Californians fighting for life and land

Johnny Frias has California in his blood. A descendant of the state's Indigenous people and Spanish settlers, he has Southern California's forgotten towns and canyons in his soul. He spends his days working for the California Highway Patrol pulling over speeders, ignoring their racist insults, and pushing past the trauma of his rookie year, when he killed a man who was in the midst of assaulting a young woman named Bunny, who proceeded to run away. But like the Santa Ana winds, which every year bring risk of fire, Johnny's moment of action twenty years ago sparks a slow-burning chain of connections that unites a vibrant, complex cast of characters in ways they never saw coming.

In Mecca, the celebrated novelist Susan Straight crafts an unforgettable American epic, examining race, history, family, and destiny through the interlocking stories of a group of native Californians all gasping for air. With sensitivity, furor, and a cinematic scope that captures California in all its injustice, history, and glory, she tells a story of the American West through the eyes of the people who built it—and continue to sustain it. As the stakes get higher and the intertwined characters in Mecca slam against barrier after barrier, we find that when push comes to shove, it's always better to push back.
About the Author
---
Susan Straight is the author of several novels, including the national bestseller Highwire Moon, a finalist for the National Book Award, and A Million Nightingales, a finalist for the Los Angeles Times Book Prize, as well as the memoir In the Country of Women, named a best book of 2019 by NPR and Real Simple. She is the recipient of the Edgar Award for Best Short Story, the O. Henry Prize, the Lannan Literary Award for Fiction, and a Guggenheim Fellowship, and her stories and essays have been published in The New Yorker, The New York Times, The Guardian, Granta, Harper's, and elsewhere. She was born and continues to live in Riverside, California, with her family, where she serves as Distinguished Professor of Creative Writing at the University of California, Riverside.
Praise For…
---
"Against the alternating currents of boosterism and doom-speak so often associated with California, Susan Straight's Mecca focuses on the people who don't usually appear in literary and cinematic depictions of a place so big it could be a country. A heartbreaker from beginning to end, Mecca both shocks and moves in its powerful and unrelenting portrait of this sunny, fiery state." --Viet Thanh Nguyen, author of The Sympathizer and The Committed

"Mecca is an essential California epic—layered and vibrant—that is as anchored in the past as it is alive to the present. Susan Straight's novel amplifies voices too often unheard and conjures an unforgettable vision of the golden state both heartbreaking and glorious that is destined to be canonical." --Ivy Pochoda, author of These Women

"Susan Straight's page-turner of a novel Mecca corrals contemporary Southern California life while simultaneously allowing readers to see previously invisible histories. Her driving force is intergenerational families and friendships that intersect with the pandemic, the wild fires, police shootings, and the experiences of the undocumented. Straight's remarkable empathy for all her characters shows her to be a loving novelist, honestly respecting the people she captures so masterfully. Just like the highways and freeways that make up the arteries of California, Straight reminds us of our collective geopolitical bloodlines, and does so with great, imaginative power." --Helena María Viramontes, author of Their Dogs Came with Them