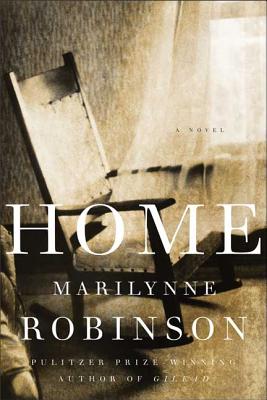 September 2008 Indie Next List
---
"Home is set at the same time and in the same Iowa town as Robinson's novel Gilead, but in a different household, where the children of a dying man return home to care for him and to face the demons of their shared past. Beautifully written, Home is a tender portrayal of families, their secrets, their loves, and their faith."
— Donna Hawley, Howard's Bookstore, Bloomington, IN
Indie Next List Highlights 2008
---
"Home is set at the same time and in the same Iowa town as Robinson's novel Gilead, but in a different household, where the children of a dying man return home to care for him and to face the demons of their shared past. Beautifully written, Home is a tender portrayal of families, their secrets, their loves, and their faith."
— Donna Hawley, Howard's Bookstore, Bloomington, IN
Description
---
Hundreds of thousands were enthralled by the luminous voice of John Ames in "Gilead," Marilynne Robinson's Pulitzer Prize winning novel. "Home "is an entirely independent, deeply affecting novel that takes place concurrently in the same locale, this time in the household of Reverend Robert Boughton, Ames's closest friend.
Glory Boughton, aged thirty-eight, has returned to Gilead to care for her dying father. Soon her brother, Jack the prodigal son of the family, gone for twenty years comes home too, looking for refuge and trying to make peace with a past littered with tormenting trouble and pain.
Jack is one of the great characters in recent literature. A bad boy from childhood, an alcoholic who cannot hold a job, he is perpetually at odds with his surroundings and with his traditionalist father, though he remains Boughton's most beloved child. Brilliant, lovable, and wayward, Jack forges an intense bond with Glory and engages painfully with Ames, his godfather and namesake.
"Home "is a moving and healing book about families, family secrets, and the passing of the generations, about love and death and faith. It is Robinson's greatest work, an unforgettable embodiment of the deepest and most universal emotions.
"Home" is a 2008 National Book Award Finalist for Fiction.
About the Author
---
Marilynne Robinson is the author of Gilead, winner of the Pulitzer Prize for Fiction and the National Book Critics Circle Award, and Housekeeping, winner of the Hemingway Foundation/PEN Award. Home received the Orange Prize, the L.A. Times Book Prize, and was a finalist for the National Book Award. Robinson's nonfiction books include Absence of Mind, The Death of Adam, and Mother Country, which was nominated for a National Book Award. She teaches at the University of Iowa Writers' Workshop and lives in Iowa City.
Praise For…
---
"Gilead is a beautiful work—demanding, grave and lucid . . . Robinson's words have a spiritual force that's very rare in contemporary fiction." —James Wood, The New York Times Book Review "There is almost no first-rate American fiction about what happens in a household where religion is the family business, but if you ever wondered what it's like to be a preacher's kid, you can't do better than "Home." Robinson's greatest achievement is that she manages to introduce the notions of belief and religious mystery without ever seeming vague. She never shies from uncomfortable truths. When Jack asks Glory why she hates Gilead and wants to leave, she says, "Because it reminds me of when I was happy." Fixing dinner, she "wished that it mattered more that [she and her father and brother] loved one another. Or mattered less, since guilt and disappointment seemed to batten on love. Her father and brother were both laid low by grief, as if it were a sickness, and she had nothing better to offer them than chicken and dumplings." This is a novel that builds its truth out of quotidian detail—the way Jack thumbs the felt on his hat brim, the way Glory thinks in Bible verses: watching Jack leave at the end of the book, she thinks, "A man of sorrows and acquainted with grief, and as one from whom men hide their face. Ah, Jack." This is book full of sadness, but the greatest sadness on the reader's part is that it has to end."--Newsweek "One of "Home's" pleasures is watching Glory and Jack rediscover each other after years of separation and misunderstanding. Each possesses a wry, almost mordant sense of humor; for such a serious writer, Robinson can be very funny. Through hardship and humor, these two siblings find in one another an empathy unique to those in the same gene pool, shouldering a similar burden of parental expectations."--Seattle Times "In both "Home" and "Gilead," Robinson appears to be considering (among myriad themes and issues) the ravaging, irremediable loneliness of the unbeliever. She embeds her inquiry in a lode of theological history, and a nest of comforting physical details. "Home's" deepest pleasures may come from the exchanges (which form the novel's body) between Glory and Jack - tentative, difficult, sore with love, anguish, insight, told through Glory's exquisitely nuanced perceptions in clean, simple, luminous language. (Robinson's prose soothes and calms, itself a balm.) Jack strives to prove himself, relapses and self-lacerates, retriggering everyone's sorrow, not least that of a father who hardens as he diminishes - a spectacle so universal in its particularity it becomes nearly unbearable. We may hope, "Home" finally suggests, that things will one day settle, in unanticipated ways. Robinson loves the word "settle," and by it she does not mean resignation. ""Home" offers such intricate characterizations, so many passages of surpassing wisdom and beauty, one yearns to quote page after page. It rejoices in the humblest actions - giving a haircut, weeding, making meals, coffee - the holiness of the daily. As handily as it fits Frost's famous lines, "Home" also calls to mind those of the late, entirely unreligious E.B. White: "All that I ever hope to say, is that I love the world.""--San Francisco Chronicle  "Any novel from Marilynne Robinson arrives with a sense of the miraculous.  More than two decades passed between the publication of her quietly earth-shattering debut, HOUSEKEEPING, a book that remains a modern classic, and its triumphant, expansive follow-up, GILEAD, a Pulitzer Prize-winner in 2005.  We can be grateful to not have to wait so long for HOME…Marilynne Robinson lives up to her dazzling reputation." --Vogue "HOME takes up with the elderly and ailing Reverend Boughton-neighbor and friend of Gilead's narrator, the Reverend John Ames-and his daughter and wayward son.  Animated by Robinson's quietly unassailable love for and faith in them, they rise off the page and grip us with the drama of their lives" --Elle "[Robinson's] prose is our flight out, a keen instrument of vision and transcendence.  The book is told from the perspective of Glory, so this language is given a compelling personal voice…While the men work out their splintery emotions, the wisdom and grace of the book resides in the quiet voice of the woman who loves them."--O, the Magazine "Robinson, one of America's most quietly thrilling novelists, paints a serene Iowa landscape which contrasts with Glory's memories of Jack, her father's ancient anger and her struggle to make peace with two men who have kept her on the edges of their orbits."--More "A prodigal son returns in brilliant 'Gilead' sequel"--Bookpage