Heaven on Earth: A Journey Through Shari'a Law from the Deserts of Ancient Arabia to the Streets of the Modern Muslim World (Hardcover)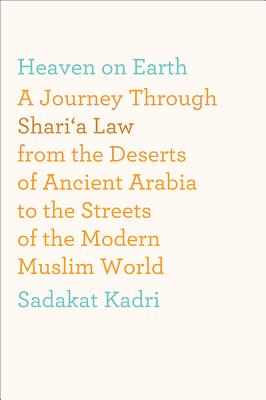 $28.00
Not available for purchase
Description
---
Some fourteen hundred years after the Prophet Muhammad first articulated God's law-the shari'a-its earthly interpreters are still arguing about what it means. Hard-liners reduce it to amputations, veiling, holy war, and stonings. Others say that it is humanity's only guarantee of a just society. And as colossal acts of terrorism made the word "shari'a" more controversial than ever during the past decade, the legal historian and human rights lawyer Sadakat Kadri realized that many people in the West harbored ideas about Islamic law that were hazy or simply wrong. "Heaven on Earth "describes his journey, through ancient texts and across modern borders, in search of the facts behind the myths.
Kadri brings lucid analysis and enlivening wit to the turbulent story of Islam's foundation and expansion, showing how the Prophet Muhammad's teachings evolved gradually into concepts of justice. Traveling the Muslim world to see the shari'a's principles in action, he encounters a cacophony of legal claims. At the ancient Indian grave of his Sufi ancestor, unruly jinns are exorcised in the name of the shari'a. In Pakistan's madrasas, stern scholars ridicule his talk of human rights and demand explanations for NATO drone attacks in Afghanistan. In Iran, he hears that God is forgiving enough to subsidize sex-change operations-but requires the execution of Muslims who change religion. Yet the stories of compulsion and violence are only part of a picture that also emphasizes compassion and equity. Many of Islam's first judges refused even to rule on cases for fear that a mistake would damn them, and scholars from Delhi to Cairo maintain that governments have no business enforcing faith.
The shari'a continues to shape explosive political events and the daily lives of more than a billion Muslims. "Heaven on Earth "is a brilliantly iconoclastic tour through one of humanity's great collective intellectual achievements-and an essential guide to one of the most disputed but least understood controversies of modern times.
About the Author
---
Sadakat Kardi is a practicing English barrister and qualified New York attorney, and the author of "The Trial." He has a master's degree from Harvard Law School and has contributed to "The Guardian," "The Times "(London), and the "London Review of Books," and he is the winner of the 1998 Shiva Naipaul Memorial Prize for travel writing. He lives in London.
Praise For…
---
"Eloquent . . . Thorough and admirable . . . Kadri's background gives him a grounded and many-angled perspective on Islamic law. He finds a great deal to admire in it, and he is deft at dispelling myths . . . [A] colorful march through Islamic history and jurisprudence . . . [Kadri] explores these complicated issues with probity but also good humor." —Dwight Garner, The New York Times

"A vivid history of Islam . . . Kadri's writing is full of elegance and wit." —The New Yorker

"A carefully researched history of how Islamic jurisprudence has evolved since the seventh century . . . [Kadri] writes with a breezy, witty tone and excels at synthesizing Islamic scholarship for a general reader. He provides a lively intellectual history of Islam." —Mohamad Bazzi, The New York Times Book Review

"Heaven on Earth is an evolutionary look at Islamic jurisprudence that is subtle, generous and—rather improbably—dryly hilarious . . . What makes this book so good isn't just that it manages the odd feat of delivering a discriminating, magisterial history of shari'a that's also quite funny; it's that its humor isn't merely incidental. Kadri's tone—gently skeptical, wittily deflationary, and most of all darkly delighted by the absurdities of history—is perfectly consonant with the substance of his project." —Gideon Lewis-Kraus, NPR.org

"Measured [and] accessible . . . With the enthusiasm for complexity of a practicing lawyer, and the empathy of one descended from devout Indian Muslims, Kadri embraces this most controversial of topics with humor, heart and hope." —Brook Wilensky-Lanford, San Francisco Chronicle

"Learned, level-headed, engaging, [Heaven on Earth] deserves praise on every front . . .  [Kadri] finds that the kinds of shari'a now trumpeted by theocrats and militants always owe more to human arrogance than to divine inspiration." —Boyd Tonkin, The Independent

"An ambitious, accessible survey from the first notions of as conveying 'the idea of a direct path to water' in the time of Muhammad when no written form of the moral law yet existed . . . With occasional personal travel details added to an engaging scholarly history, Kadri offers a readable, useful companion to the Qur'an." —Kirkus Reviews

"This is a beautifully nuanced and incisive study of a subject beset by misunderstanding.  A timely and important achievement." —Colin Thubron, author of Shadow of the Silk Road

"Compelling . . . Admirably even-handed . . . [Heaven on Earth] book greatly enriches our understanding of a much misunderstood subject." —Ian Critchley, The Sunday Times (London)

"A truly penetrating and provocative book." —Aatish Taseer, The Observer (London)

"If you are about to utter the word 'Islam' or 'shari'a,' stop and read this book first. It's a fascinating and often witty account of the evolution of the shari'a through the ages and the way it's practiced across the Muslim world now. I never thought legal history could be made into a page-turner. Kadri is a brilliant historian and an even better writer." —Mohammed Hanif, author of A Case of Exploding Mangoes

"An elegantly composed model for writing cultural and intellectual history, Heaven on Earth explodes the nation of the Muslim world as a monolith and Islamic tradition as unchanging." —David Luhrssen, Express Milwaukee

"[A] fascinating journey . . . Skilfully weaves history with travelogue to guide the reader into this most contentious and topical of territory . . . Kadri approaches these themes with unstinting humanity and intelligence, as well as great fluency." —James Mather, The Spectator

"Captivating . . . Heaven on Earth is an erudite and instructive book." —Ziauddin Sardar, The Times (London)

"Illuminating . . . Intriguing and memorable . . . [An] intellectually nimble and rigorously researched book . . .  Kadri is a precise and stylish writer, as good on explicating abstruse arguments as he is at conjuring vivid scenes . . . Given how heated debates about shari'a have become, and given how glancing the intellectual engagement with it is on the part of some of the most strident voices, this brave and sane book could not be more timely." —Stuart Kelly, The Scotsman

"[A] brilliant and illuminating study . . . A gripping account . . . Kadri is far too subtle to either to mount an attack on shari'a, or to defend it. He has demystified it . . . With tact and fine writing, [Kadri] has helped us to understand what shari'a really is, and how it emerged, and that will do at least something to demolish prejudice." —Boris Johnson, The Mail on Sunday

"Lively, yet scholarly . . . Kadri is an ideally positioned guide." —Sameer Rahim, The Daily Telegraph
Coverage from NPR