Bio-Management of Postharvest Diseases and Mycotoxigenic Fungi (World Food Preservation Center Book) (Paperback)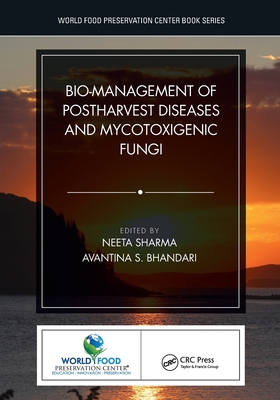 $129.94

Comes From Our Warehouse - Usually Ships in 3-10 Days
(This book cannot be returned.)
Description
---
There is an ever-increasing demand for more food but one of the stumbling blocks to achieving this goal is quality and quantity losses due to various pests and pathogens and the mycotoxins synthesized by these harmful biotic entities.
Thus far, strategies employed to manage these post-harvest diseases and mycotoxins decontamination include established physical, cultural, and chemical methods. Recently, the application of chemicals to reduce decay and deterioration caused by various pathogens has been impeded as these hazardous chemicals contaminate the environment, enter the food chain, and destroy beneficial microorganisms and pests by aiming at non-target microorganisms. In light of this, the usage of eco-friendly and non-polluting alternatives to chemical pesticides is the call of the hour.
Bio-management of Postharvest Diseases and Mycotoxigenic Fungi deals with the current state and future prospects of using various bio-management techniques that are natural, eco-friendly, and environmentally safe. It aims to increase awareness of their potential as well as sensitizing readers to the various aspects of biologicals in pest control.
Key Features:
Highlights classical versus new techniques adopted to manage postharvest diseases
Discusses novel approaches in managing fungal spoilage and mycotoxin decontamination
Provides readers with a 360-degree perspective of the pre- and post-harvest quality mycotoxin decontamination research being conducted
Details proposals of new ideas to ensure a food secure and pesticide-free world
This book disseminates notable and diversified scientific work carried out by leading experts in their own field. Written by qualified scientists in each of their respective disciplines, it can serve as a current and comprehensive treatise on the emerging field of bio-management of postharvest diseases and mycotoxin decontamination by products that are generally regarded as safe.
About the Author
---
Dr. (Mrs.) Neeta Sharma is Professor in Department of Botany, Lucknow University, Luckm a senior faculty member in the Department of Botany, University of Lucknow, India. She is an active, dedicated and progressive researcher in the arena of Market Pathology and Management of Post harvest diseases of Perishables and Stored products for over three decades. She is adorned with prestigious awards like "Distinguished Services Award," "Young Scientist Award," and "Plant Pathology Leadership Award" for distinguished teaching and research in the field of biological sciences. An outstanding teacher and guide, Dr. Sharma, is also an enthusiastic scientist. She has mentored more than 40 students to their PhDs and M.Phils. She has been at the fore front of research in the field of post harvest pathology and initiated research programs sponsored by different scientific agencies in her country. She has contributed more than 200 review chapters and research articles which have appeared in scientific periodicals of national and international repute. In addition she has been time and again credited for popularizing science among non-scientific populations by popular scientific writing. She has well known books entitled "Post harvest diseases of Horticultural Perishables," "Nematode Control in Crops," "Biocenology -Plant health management" to her credit. Recently she has edited a book on "Biological controls for preventing food deterioration: Strategies for Pre-and Post Harvest Management" Wiley Blackwell, USA.