Serial Griller: Grillmaster Secrets for Flame-Cooked Perfection (Hardcover)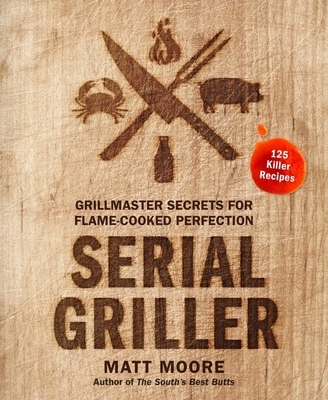 Staff Reviews
---
Grilled Watermelon p. 277 
For full recipe, buy the book.  
8 1-inch-thick seedless watermelon wedges with rinds
1/2 cup vanilla whole-milk Greek yogurt
1/4 cup roasted salted pistachios, roughly chopped
2 teaspoons crystallized ginger, finely chopped
1/2 teaspoon grated orange zest (from one orange)
Freshly ground black pepper
Grill watermelon (instructions in book)
Top wedges with toppings and garnish with pepper
— Kelly
There are tons of great grilling books out there, but this is my new favorite. After a lively, informative, heartfelt introduction, Moore introduces us to 17 grill masters from all walks of life and styles of grilling. You are introduced to each person, how they came to grilling and then some recipes from each. The second half of the book is recipes divided by course and all of them are different and delicious! There is a lot to love about this cookbook. Moore clearly loves his craft and the people who practice it. His personal story with grilling is detailed in a beautifully written foreward about his parents and extended family. This would make a marvelous family gift or Father's Day gift!
— From
Kelly
Description
---
From the author of South's Best Butts and A Southern Gentleman's Kitchen, an all-around grilling cookbook showcasing different methods and diverse cuisines, as well as sought-after stories and recipes from America's all-star grillers

Matt Moore confesses: He is a serial griller. He can't help it—if there's food and flame, he'll grill it. In his newest book, he shares his indiscriminate appetite for smoky perfection with a broad collection of recipes varied in method, technique, and cuisine. After a review of the basics—the Maillard reaction, which grill is best for you, and more—he takes the reader on a tour across America to round up authentic stories, coveted recipes, and indispensable tips from grill masters of the South and beyond, including stops at unexpected but distinguished chefs' spots like Michael Solomonov's Zahav and Ashley Christensen's Death & Taxes. Moore offers his own tried-and-true grilling recipes for every part of the meal, from starters and salads to handhelds (Tacos al Pastor, Pork Gyros) and big plates (Country-Style Ribs with Peach Salsa) to desserts (Grilled-Doughnut Ice Cream Sandwiches). Serial Griller is a serious and delicious exploration of how grilling is done all around America.
About the Author
---
Matt Moore is an entrepreneur, cook, musician, host, pilot, and the quintessential Southern gentleman. He is the author of The South's Best Butts and A Southern Gentleman's Kitchen. His food writing has garnered critical acclaim from publications including the Wall Street Journal, Chicago Tribune, and New York Times. His Southern charm has landed him on the TODAY show, Fox & Friends, VH1, and WGN.
Praise For…
---
"Compelling stories. Drop-dead gorgeous photos. And recipes that no only make you hungry but make you think. Matt Moore's book will make the heart of every serious griller beat faster and make you want to run, not walk, to fire up your grill."
—Steven Raichlen, author of the Barbecue Bible cookbook series and host of Project Fire and Project Smoke on PBS

"To say I'm 'fired up' would be an understatement. Serial Griller is thoughtful, intentional, and downright mouth-watering. Matt Moore is taking your backyard grill game to a whole new level."
—Michael Solomonov, chef/owner of Zahav

"The best part of Serial Griller is the diversity of grillers, their techniques, and their recipes. Some are so far outta the box, I may never crawl back in. Cooking outdoors is an adventure, and, as Matt says, 'Success is a journey, not a destination.' My repertoire will never be the same."
—Meathead, barbecue whisperer of AmazingRibs.com and best-selling author of Meathead

"Matt Moore's Serial Griller nurtures us through the art of grilling and connects us to its endless possibilities through his relationships with some of the world's best chefs. It will be a well-worn reference for your life-fire cooking."
—Hugh Acheson, chef and author

"Variety is the spice of this lively and flavorful harbinger of spring."
—Publishers Weekly 

"Compelling stories. Drop-dead gorgeous photos. And recipes that no only make you hungry but make you think. Matt Moore's book will make the heart of every serious griller beat faster and make you want to run, not walk, to fire up your grill."
—Steven Raichlen, author of the Barbecue Bible cookbook series and host of Project Fire and Project Smoke on PBS

"To say I'm 'fired up' would be an understatement. Serial Griller is thoughtful, intentional, and downright mouth-watering. Matt Moore is taking your backyard grill game to a whole new level."
—Michael Solomonov, chef/owner of Zahav

"The best part of Serial Griller is the diversity of grillers, their techniques, and their recipes. Some are so far outta the box, I may never crawl back in. Cooking outdoors is an adventure, and, as Matt says, 'Success is a journey, not a destination.' My repertoire will never be the same."
—Meathead, barbecue whisperer of AmazingRibs.com and best-selling author of Meathead

"Matt Moore's Serial Griller nurtures us through the art of grilling and connects us to its endless possibilities through his relationships with some of the world's best chefs. It will be a well-worn reference for your life-fire cooking."
—Hugh Acheson, chef and author