How She Died, How I Lived (Hardcover)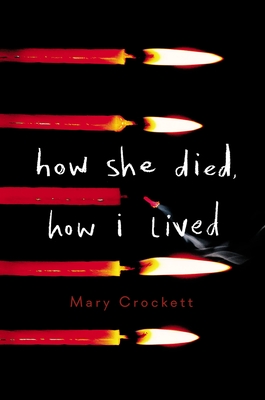 Staff Reviews
---
One of my absolute favorite books of 2018! The unnamed main character is one of 5 girls that were texted by a local boy with murder on his mind- only one girl replied, only one girl was brutally murdered. A year later and our heroine is dealing with survivor's guilt, the upcoming sentencing trial for the murderer, and the crush on a dead girl's boyfriend. A life forever changed by the what ifs of one fateful day, the violence that so easily can end the life of any woman, makes for an unforgettable and unputdownable read!
— From
Katie
Description
---
Girl in Pieces meets The Way I Used to Be in this poignant and thought-provoking novel about a girl who must overcome her survivor's guilt after a fellow classmate is brutally murdered.

I was one of five. The five girls Kyle texted that day. The girls it could have been. Only Jamie--beautiful, saintly Jamie--was kind enough to respond. And it got her killed.

On the eve of Kyle's sentencing a year after Jamie's death, all the other "chosen ones" are coping in different ways. But our tenacious narrator is full of anger, stuck somewhere between the horrifying past and the unknown future as she tries to piece together why she gets to live, while Jamie is dead.

Now she finds herself drawn to Charlie, Jamie's boyfriend--knowing all the while that their relationship will always be haunted by what-ifs and why-nots. Is hope possible in the face of such violence? Is forgiveness? How do you go on living when you know it could have been you instead?
About the Author
---
Mary Crockett grew up the youngest in a family of misfits in southwestern Virginia. An award-winning poet, she has her MFA from the University of Virginia, where she was a Henry Hoyns Fellow. Her debut YA novel, Dream Boy, coauthored with Madelyn Rosenberg, published in 2014. Mary lives in an old farmhouse along the old Great Road in Virginia and teaches creative writing at Roanoke College.
Praise For…
---
* "The writing grabs readers and never lets go. Crockett delves deep into the heart of grief and pain through her narrator, who is witty and vulnerable, making this a quick but heartrending read. An outstanding debut."
p.p1 {margin: 0.0px 0.0px 0.0px 0.0px; font: 13.0px Times}
—School Library Journal, starred review


p.p1 {margin: 0.0px 0.0px 0.0px 0.0px; font: 13.0px Times; color: #333333}
span.s1 {font-kerning: none}



"One of my absolute favorite books of 2018! An unforgettable and unputdownable read."—Shelf Awareness


p.p1 {margin: 0.0px 0.0px 0.0px 0.0px; font: 13.0px Times}
span.s1 {font-kerning: none}



"Crockett has crafted dynamic characters that will stick with readers long after the book is closed."—Booklist

"The narrative voice is highly credible as it canvasses the fluctuating range of emotional highs and lows, the sine curve of fear and empowerment, and the fully realized ethical dilemmas that follow a trauma that hits far too close to home."
p.p1 {margin: 0.0px 0.0px 0.0px 0.0px; font: 13.0px Times}
span.s1 {font-kerning: none}
—BCCB


p.p1 {margin: 0.0px 0.0px 0.0px 0.0px; font: 13.0px Times}



"[How She Died, How She Lived] authentically portrays the real feelings of someone who survives a tragedy. Recommended for readers of realistic fiction and those who have lost someone close to them in a senseless crime."—VOYA