How to American: An Immigrant's Guide to Disappointing Your Parents (Hardcover)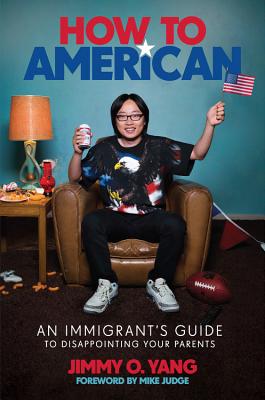 $27.00
Currently Out of Stock - Available to Ship From Our Warehouse in 3-5 Days
Staff Reviews
---
Yang (star of HBO's Silicon Valley) is excruciatingly revealing about his life growing up as a Chinese immigrant who wants nothing more than to blend in.  Learning English and American culture from watching endless hours of BET.  
Cringingly politically incorrect, some readers might take offense.  (I actually listened to the audio, which I highly recommend!!!)  When it comes to women, Yang's view seems to still be stuck in images of 90s rappers on yachts surrounded by women in thongs...his persistent idea of the American dream.  It's a little distracting, if funny.  And sort of gross.  
Anyway...Yang concludes the book with an impassioned plea for fair treatment if immigrants as individuals first, not their ethnicities, and an inspiring account of his revelations about his own identity.  Worth the price of the book, for sure.  I actually had tears in my eyes at the end.  
And I laughed a lot.  We all need that.  
— Kelly
Description
---
Standup comic, actor and fan favorite from HBO's Silicon Valley and the film Crazy Rich Asians shares his memoir of growing up as a Chinese immigrant in California and making it in Hollywood.

"I turned down a job in finance to pursue a career in stand-up comedy. My dad thought I was crazy. But I figured it was better to disappoint my parents for a few years than to disappoint myself for the rest of my life. I had to disappoint them in order to pursue what I loved. That was the only way to have my Chinese turnip cake and eat an American apple pie too."

Jimmy O. Yang is a standup comedian, film and TV actor and fan favorite as the character Jian Yang from the popular HBO series Silicon Valley. In How to American, he shares his story of growing up as a Chinese immigrant who pursued a Hollywood career against the wishes of his parents: Yang arrived in Los Angeles from Hong Kong at age 13, learned English by watching BET RapCity for three hours a day, and worked as a strip club DJ while pursuing his comedy career. He chronicles a near deportation episode during a college trip Tijuana to finally becoming a proud US citizen ten years later. Featuring those and many other hilarious stories, while sharing some hard-earned lessons, How to American mocks stereotypes while offering tongue in cheek advice on pursuing the American dreams of fame, fortune, and strippers.

About the Author
---
Multi-faceted actor, stand-up comedian, and writer Jimmy O. Yang is best known for his portrayal of hilarious intern Jian Yang on HBO's Emmy-nominated comedy series Silicon Valley. Born in Hong Kong, Yang made his television debut on the CBS series 2 Broke Girls and his first late-night stand-up appearance on The Arsenio Hall Show, where he received a rare standing ovation. Other television credits include DirecTV's Things You Shouldn't Say Past Midnight, CBS' Battle Creek and Criminal Minds, FXX's It's Always Sunny in Philadelphia, and ABC's Marvel's Agents of S.H.I.E.L.D. He is currently recurring on TruTV's half hour comedy series, Those Who Can't. Yang is based in Los Angeles.
Praise For…
---
"Hilarious, heartfelt, and inspiring, How to American captures the Asian-American experience. A must-read for everyone."
—Ken Jeong, comedian, actor, The Hangover


"It's difficult to imagine how excruciatingly uncomfortable it must be for many immigrants. Jimmy O. Yang hilariously chronicles his very personal experience from frightened youth to cultural virtuoso."—Dr. Drew Pinsky, media personality, author, board-certified physician

"HILARIOUS! Reading this book is like sitting at lunch with your funniest friend whose stories make you laugh until milk comes shooting out your nose. Jimmy O. Yang will teach you how to American like a pro!"—Kevin Kwan, international bestselling author of Crazy Rich Asians


"Jimmy is not funny."
—Jimmy's dad


"[A] funny and breezy memoir...Yang inspires with his hard work and assertion that the American dream is real."—Booklist

"The 'Silicon Valley' star blends humor and pathos in his coming-of-age memoir, revealing the intricacies of life as a Chinese immigrant."
—New York Times Book Review

"The stand-up comedian and actor, best known for playing the prank-call-loving Jian-Yang on the HBO tech comedy, brings his storytelling abilities from the screen to the page with his debut book. Subtitled An Immigrant's Guide to Disappointing Your Parents, the book documents Yang's journey from Chinese immigrant to television star."
—Entertainment Weekly

undefined—Entertainment Weekly, "This Week's Must List"

"Telling Yang's full story, from his upbringing in Hong Kong, to assimilating into California living as a teenager, to making it in Hollywood against all odds, How to American is an easy read. It will make you laugh, but it will also make you think."—Pure Grain Audio

"As the political debate over immigration policy roars on under the Trump administration, Yang says his book attempts to 'humanize' the immigrant experience. It's the good, the bad, and the awkward moments of a new American that every human being can relate to."
—Huffington Post

"Immigrants to the US will find much to relate to...The book is not your conventional rags-to-riches, pull-oneself-up-by-one's-bootstraps immigrant story...The memoir has plenty of funny anecdotes...But the heart of Yang's story lies in the dilemma of being caught between the traditions of his Chinese parents and the opportunities and independence offered by America...It's not new advice: Find a path that allows you to be who you are, not what others want you to be. But framing that message within an Asian immigrant narrative, even today, feels like a breakthrough."—Quartz

"A fascinating peep into the life of a rising Hollywood star...Many immigrants and naturalized Americans would relate to his experience. How to American is as beautifully written as it is funny and enjoyable."—Washington Book Review

"The book chronicles his history as a hip-hop-loving teen in a crew called Yellow Panthers-with photos of Yang throwing up gang signs in high school-and follows his plunge into the comedy world."—Fast Company

"On the show, Jian-Yang ruthlessly mocks his start-up incubator roomies, sparing no elaborate scheme to make them look and feel stupid. But the real Yang is a warm, tender guy, as evidenced by his new book...Riffing on the comic misadventures he amassed while evolving from young Chinese immigrant to stand-up comedian to strip club DJ to television star, Yang writes with an empathetic tone about his parents, his struggles with the opposite sex, and, of course, the lessons he picked up watching rap videos on BET."—Flood Magazine


"Being a comedian, [Jimmy O. Yang] naturally tells his story in a hilarious way, with self-deprecating humor being the norm of the book."—Tulsa Book Review

"[A] hilarious but heartfelt memoir."
—The Wrap