Forging Capitalism: Rogues, Swindlers, Frauds, and the Rise of Modern Finance (Yale Series in Economic and Financial History) (Hardcover)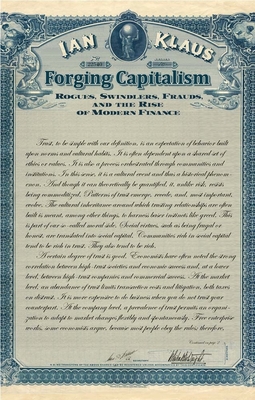 Description
---
A riveting history of raw capitalism that exposes the unscrupulousness at its heart

Vice is endemic to Western capitalism, according to this fascinating, wildly entertaining, often startling history of modern finance. Ian Klaus's Forging Capitalism demonstrates how international financial affairs in the nineteenth century were conducted not only by gentlemen as a noble pursuit but also by connivers, thieves, swindlers, and frauds who believed that no risk was too great and no scheme too outrageous if the monetary reward was substantial enough. Taken together, the grand deceptions of the ambitious schemers and the determined efforts to guard against them have been instrumental in creating the financial establishments of today. In a story teeming with playboys and scoundrels and rich in colorful and amazing events, Klaus chronicles the evolution of trust through three distinct epochs: the age of values, the age of networks and reputations, and, ultimately, in a world of increased technology and wealth, the age of skepticism and verification. In today's world, where the questionable dealings of large international financial institutions are continually in the spotlight, this extraordinary history has great relevance, offering essential lessons in both the importance and the limitations of trust.
About the Author
---
Ian Klaus is a member of the Policy Planning Staff of the U.S. State Department and was previously Ernest May Fellow at the John F. Kennedy School of Government at Harvard University.
Praise For…
---
"Klaus has written a fascinating study of an intangible: trust. . . . Forging Capitalism is firmly grounded in the past, but make no mistake: we're all still living in that world."—Steve Donoghue, Open Letters Monthly
— Steve Donoghue

"Ian Klaus documents in fascinating detail just how difficult it was to re-establish trust among people as capitalism developed in the 19th century." --Larry Neal, Emeritus Professor of Economics, University of Illinois at Urbana-Champaign
— Larry Neal

"In this sparkling study, based on deep research and financial understanding, and full of colorful characters, Ian Klaus has provided a brilliant analysis of British capitalism in the 19th century. We discover how much of what characterizes modern capitalism was formed in these years. It is continuing in similar ways in our own day. Adam Smith on the surface, so many fraudsters below.  The book is a triumph, full of insight, and a delight to read."--Peter Stansky, Stanford University
— Peter Stansky

"Forging Capitalism is an engaging history of how Britain attempted to negotiate this tension in the century running up to the outbreak of the first world war. The title is a pun. It is a study of the rogues, swindlers and fraudsters who tried to benefit from the market economy through the use of deceit. It is also an examination of how capitalism itself was forged through evolving mechanisms to curb these dishonest tendencies."—Daniel Ben-Ami, Financial Times
— Daniel Ben-Ami

"The details as presented by Klaus are not simply entertaining, they provide valuable lessons for today . . . Klaus is both persuasive and a good narrator."—Edward Hadas, Reuters Breakingviews
— Edward Hadas

"This book offers an important and accessible account of raw capitalism in 19th century Britain, the problems of fraud and speculation that came with it, and attempts to secure trust and limit risk in response. It is a compelling, even riveting account which cleverly blends culture and economics."–Frank Trentmann, author of Free Trade Nation
— Frank Trentmann

"As Ian Klaus explains in his engaging new book, Forging Capitalism: Rogues, Swindlers, Frauds, and the Rise of Modern Finance, every phase of our market society's expansion was shaped by deceit, fraud and mountebankery."—Chris Lehmann, In These Times
— Chris Lehmann

"An irresistible title. The book gives an account of the essential role played by trust as capitalist markets developed through the century . . . This central argument is illustrated through a series of brilliant stories about both the evolution of new assets and commercial relationships but also about a series of colourful rogues and swindlers." —Diane Coyle, The Enlightened Economist
— Diane Coyle

'Klaus is a former Harvard scholar who now works in the US State Department. He is also an adherent of the school that believes business history contains as many colourful characters and happenings as any other branch of the past, and deserves to be told that way. He is an entertaining writer, and Forging Capitalism is a compendium of vivid anecdotes —but they are drawn into an ultimately rather depressing thesis, that "vice is endemic in western capitalism."'—Martin Vander Weyer, Spectator.

— Martin Vander Weyer

"Forging Capitalism is well framed, imaginatively researched, and engagingly written . . . Written with narrative flair and an eye for dramatic historical detail, this lively book will reward not only historians of business, capitalism, and modern Britain, but also a wider audience interested in the moral dimensions of finance capitalism and its lessons for the twenty-first century."—Jamie Pietruska, Business History Review
— Jamie Pietruska

"Like Keynes, Klaus wears the livery of Burke, and at times Burke could be dictating what he writes: 'We encounter, again and again, the darker forces of greed and deception that prosper in new frontiers of commerce'; 'We have entered the age of the accountant, the actuary and the medical examiner.' And the age of chivalry is gone, that's for sure.  'If polite Victorians – honest, sexless, Christian – still live in your historical cupboard, throw them out,' he writes. 'We don't like them anymore, and they never existed anyway.'"—John Premble, London Review of Books
— John Premble

"The stories are absorbing and the larger theme is important: Forging Capitalism is a fine book and I recommend it."—Clive Crook, Bloomberg View
— Clive Crook