How Dare You: Inspecting the Rhetorical Kill-shots of America's Most Banned Comedian, Owen Benjamin (Paperback)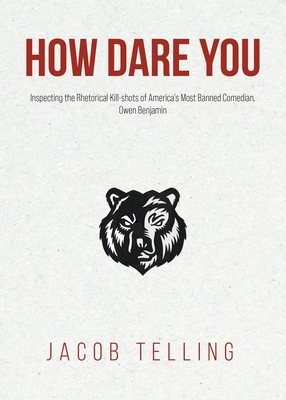 $19.99

Comes From Our Warehouse - Usually Ships in 3-10 Days
(This book cannot be returned.)
Description
---
In the modern world of progressivism and political correctness, powerful institutions are turning upside down: schools are indoctrinating children, food and medicine are destroying health, law is dismantling justice, psychiatry is warping minds, science is rejecting facts, media is subverting trust, universities are sabotaging incomes, careers are breaking families, feminism is abusing women, churches are humiliating faith, corporations are undermining capitalism, and governments are obstructing freedom. Viewed this way, contemporary life can start to feel like a run-on sentence: overwhelming. Nonetheless, as members of families, communities, and nations, complying with these unbearable realities is simply unacceptable. Therefore, we have important questions to ask: What the hell do we do? How do we win? This book is about finding the answers.
This is like, gross. Soo triggered right now. - A social-justice warrior with three cats.
Sexist, bigot, homophobe. - A sophomore in debt.
I can't even. - A feminist named Carl.
How dare you - A boomer who just took out another loan.
What Jacob naively fails to grasp pertaining to safe spaces flagrantly resonates throughout his toxic-male prose. His hapless ignorance of academia manifests as equal parts prejudiced and oppressive. It's privileged, mansplaining bigots like this who contribute to the problematic dismantlement of the great coming utopia. - A Nobel laureate with skeletons in his closet.