The Great Broadening: How the Vast Expansion of the Policymaking Agenda Transformed American Politics (Paperback)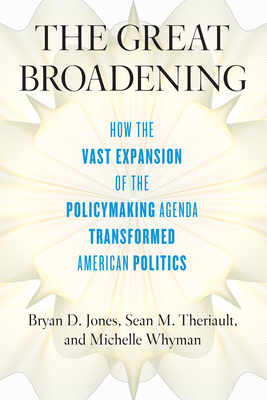 Description
---
Beginning in the late 1950s and continuing through the 1970s, the United States experienced a vast expansion in national policy making. During this period, the federal government extended its scope into policy arenas previously left to civil society or state and local governments.

With The Great Broadening, Bryan D. Jones, Sean M. Theriault, and Michelle Whyman examine in detail the causes, internal dynamics, and consequences of this extended burst of activity. They argue that the broadening of government responsibilities into new policy areas such as health care, civil rights, and gender issues and the increasing depth of existing government programs explain many of the changes in America politics since the 1970s. Increasing government attention to particular issues was motivated by activist groups. In turn, the beneficiaries of the government policies that resulted became supporters of the government's activity, leading to the broad acceptance of its role. This broadening and deepening of government, however, produced a reaction as groups critical of its activities organized to resist and roll back its growth.
 
About the Author
---
Bryan D. Jones is the J. J. "Jake" Pickle Regent's Chair in Congressional Studies in the Department of Government at the University of Texas at Austin and the coauthor, most recently, of The Politics of Information.Sean M. Theriault is a University Distinguished Teaching Professor in the Department of Government at the University of Texas at Austin and the author of three books. Michelle Whyman is a postdoctoral research associate with the Political Institutions and Public Choice Program at Duke University.