In the Hurricane's Eye: The Genius of George Washington and the Victory at Yorktown (The American Revolution Series #3) (Paperback)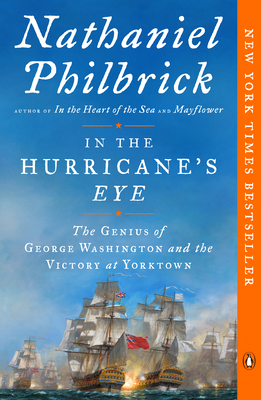 Other Books in Series
This is book number 3 in the The American Revolution Series series.
Staff Reviews
---
Nathaniel Philbrick is one of my favorite historians today, with his ability to dig up little known history and create a tense and exciting narrative. In his newest work, he follows the year leading up to Washington's victory at Yorktown, VA in 1781 that essentially ended the American Revolution. The version that is often taught is mostly wrong, and it was a naval battle fought off the VA coast that didn't include a single American that guaranteed success. Washington knew he needed French naval power to defeat the British, but two years of fruitless correspondence left him frustrated. The stars really had to align for all of this to happen, and Philbrick shows that we owe our independence not only to the French navy, but to many other individuals (mostly non-Americans) and factors (the weather, luck) that we don't even realize.
— From
Carl
Description
---
NEW YORK TIMES BESTSELLER

"Nathaniel Philbrick is a masterly storyteller. Here he seeks to elevate the naval battles between the French and British to a central place in the history of the American Revolution. He succeeds, marvelously."--The New York Times Book Review

The thrilling story of the year that won the Revolutionary War from the New York Times bestselling author of In the Heart of the Sea and Mayflower.

In the concluding volume of his acclaimed American Revolution series, Nathaniel Philbrick tells the thrilling story of the year that won the Revolutionary War. In the fall of 1780, after five frustrating years of war, George Washington had come to realize that the only way to defeat the British Empire was with the help of the French navy. But coordinating his army's movements with those of a fleet of warships based thousands of miles away was next to impossible. And then, on September 5, 1781, the impossible happened. Recognized today as one of the most important naval engagements in the history of the world, the Battle of the Chesapeake—fought without a single American ship—made the subsequent victory of the Americans at Yorktown a virtual inevitability. A riveting and wide-ranging story, full of dramatic, unexpected turns, In the Hurricane's Eye reveals that the fate of the American Revolution depended, in the end, on Washington and the sea.
About the Author
---
Nathaniel Philbrick is the author of In the Heart of the Sea, winner of the National Book Award; Mayflower, finalist for the Pulitzer Prize; Valiant Ambition, winner of the George Washington Prize; Bunker Hill, winner of the New England Book Award; Sea of Glory; The Last Stand; Why Read Moby Dick?;  Away Off Shore; and Second Wind.
Praise For…
---
"[Philbrick], an accomplished popular historian…excels when writing about sailors and the ocean. He vividly renders the interplay of skill and chaos in naval combat by massive fleets, as well as the fury of hurricanes...In the Hurricane's Eye delivers on the author's promise to 'put the sea where it properly belongs: at the center of the story.'"—Wall Street Journal

"Nathaniel Philbrick is a masterly storyteller. Here he seeks to elevate the naval battles between the French and British to a central place in the history of the American Revolution. He succeeds, marvelously. He can relate in a word or two what others might take a chapter to expound...As a writer, I'm envious of Philbrick's talents, but as a reader, I'm grateful."—The New York Times Book Review

"A tension-filled and riveting account of the alliance that assured American independence...Philbrick is a master of narrative, and he does not disappoint as he provides a meticulous and often hair-raising account of a naval war between France and England."—The Washington Post

"Nathaniel Philbrick's masterful new look at the American Revolutionary War's end days isn't quite revisionist history, but it comes close. With both hands, he grabs the reader's head and turns it towards the sea…. It's a startling take on a familiar history that one might expect from this author."—NPR.org

"Told with all the zest and eloquence [Philbrick's] millions of readers have come to expect. Philbrick is right to observe that this epic afternoon of cannon fire on the coastal sea-lanes is largely overlooked in popular accounts of the Revolution; In the Hurricane's Eye is exactly the kind of rousing narrative account it deserves."—Christian Science Monitor

"A stirring but clear-eyed read."—The Guardian

"Packed with revealing information and high drama, In the Hurricane's Eye is a must-read for any aficionado of the American Revolution."—Philadelphia Inquirer

"The final installment of Philbrick's bestselling trilogy about the American Revolution covers the suspenseful final year of the war...Philbrick brings this turning point of American history to life with his obvious passion, expertise and superb storytelling skills."—NBC News

"Eminently satisfying and thoroughly engrossing...Philbrick has written another masterwork of narrative history with flowing prose and exciting descriptions of the events leading up to the climactic Battle of Yorktown in 1781."—The Providence Journal

"Philbrick is a consummate storyteller. He adds a human element to the granite statues of our national narrative, without toppling those statues. He shows the famous, the infamous, and the unknown foot soldiers in the light of their own personalities."—Nantucket Inquirer and Mirror

"A gripping narrative about the year that won the Revolutionary War." —The New York Post

"Clear, vivid, and often revealing, In the Hurricane's Eye returns the maritime elements of American victory in the Revolution to center stage. [Philbrick's] ability to find instructive quotations from the primary sources and the small details that introduce verisimilitude has been well-established in his writing on American history, and this new book does not disappoint."—War on the Rocks

"Magnificent… Philbrick's writing is just superb, and while he manages to incorporate many marvelous and little know stories and vignettes, the book reads almost like a Tom Clancy thriller, with political intrigue, international machinations, and suspense keeping the pages turning even if the reader is already basically familiar with the story…This book will delight, educate, and entertain while it brings to light the genius, chance, and sacrifice that finally brought about America's independence."—NY Journal of Books

"A fast and often dramatically written account…Philbrick marshals his extensive research smoothly."—The Dallas Morning News

"A well-researched and well-written book that offers a thrilling account of sea battles in the age of sail, as well as land battles and a portrait of the amazing historical characters who led and fought the battles of the American Revolution."—The Washington Times

"A thoroughly enjoyable account of the moment that allowed the United States to morph from rebellious territory into an independent nation. It is another Philbrick masterpiece that will engage and entertain readers for generations...Philbrick's exhaustive research into the events leading to Yorktown cast new light on Washington's value as a strategic military planner and his understanding of naval warfare."—HistoryNet

"Provides significant lessons as we seek to understand the complex international world we face today...Yorktown is another reminder that big doors can swing on seemingly small hinges."—Bloomberg Opinion

"A vivid, richly detailed account of the final battles that educates and entertains while it also makes very clear the colonists' risks and sacrifices that led to America's independence...Nathaniel Philbrick's writing is impeccable. The book incorporates many little-known vignettes about the war and reads like a thriller."—Missourian.com

"A great read. In true Philbrick style, it features a flowing narrative with engaging details and interesting anecdotes about America's struggle to gain its independence while providing insight into Washington's brilliance as one of the leading military commanders of his era."—The Patriot Ledger

"A gripping account of the campaigns of 1781."—Chapter16.org

"Engrossing…a compelling, detailed look at the jigsaw puzzle of events that led to the end of the war."—Brown University Alumni Magazine

"A tense, richly detailed narrative of the American Revolution...Philbrick reprises the protagonists of his last history of the War of Independence in a meticulously researched recounting of the events leading up to the colonists' victory at the Battle of Yorktown...Philbrick, a sailor himself, recounts the strategic maneuvering involved in the many naval encounters: ships' positions, wind direction and strength, and the "disorienting cloud of fire and smoke" that often imperiled the fleet."—Kirkus Reviews

"Readers of Revolutionary War history will be enrapt by the blow-by-blow detail of this lively narrative, which is supported by countless letters and journal entries from key participants."—Library Journal

"Another insightful and accessible account…This thought-provoking history will deepen readers' understanding of how the U.S. achieved its independence."—Publishers Weekly (starred review)

"Philbrick manages to impart the immediacy of breaking news to his descriptions of marches, skirmishes and battles...He places the reader in the midst of the fray."—Bookpage

"All readers interested in the Revolutionary War, and especially fans of naval history, will find Philbrick's fresh account rewarding, right through the epilogue."—Booklist


Praise for Valiant Ambition:

"Clear and insightful, it consolidates his reputation as one of America's foremost practitioners of narrative nonfiction." —The Wall Street Journal

"May be one of the greatest what-if books of the age--a volume that turns one of America's best-known narratives on its head."—The Boston Globe

"A suspenseful, richly detailed, and deeply researched book"—The New York Review of Books

"History at its most compelling: political machinations, military jostling and outright treachery. And Philbrick's vivid writing brings the whistling cannon balls and half-frozen soldiers to life (and death) in vivid detail."—The Seattle Times

"The near-tragic nature of the drama hinges not on any military secrets Arnold gave to the British but on an open secret: the weakness of the patriot cause....Arnold's betrayal still makes for great drama, proving once again that the supposed villains of a story are usually the most interesting."—The New York Times Book Review

"Philbrick wants his readers to experience the terror, the suffering and the adrenaline rush of battle, and he wants us to grit our teeth at our early politicians who, by their pettiness and shortsightedness, shape military events as profoundly as generals and admirals do. Finally, he reveals the emotional and physical cost of war on colonial society. He succeeds on all fronts."—The Washington Post

Praise for Bunker Hill:

"A masterpiece of narrative and perspective."—The Boston Globe

"A tour de force."—Chicago Tribune

"Popular history at its best--a taut narrative with a novelist's touch, grounded in careful research."—Miami Herald

"A story that resonates with leadership lessons for all times."—Walter Isaacson, The Washington Post