The Art of M&a, Fourth Edition: A Merger Acquisition Buyout Guide (Hardcover)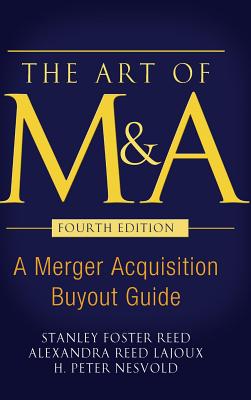 Description
---
Authoritative and completely up-to-date, the Fourth Edition of The Art of M&A is an unsurpassed, one-stop guide to every facet of mergers and acquisitions that enables you to make winning deals with complete confidence.
This definitive resource retains its popular Q&A format, offering quick access to all the changes that have occurred in the field since the merger wave of the 1990s. The book explores every key aspect of winning M&A transactions, and presents advice on avoiding common M&A pitfalls.
The Fourth Edition of The Art of M&A features vital information on:
Getting Started in Mergers and Acquisitions --learning the basic M&A process, requirements, negotiating skills, and objectives
Planning and Finding --deciding what to buy and then locating it
Valuation and Pricing -- using multiple valuation methods to discover the true value of an acquired company or unit
The Art of Financing and Refinancing -- mastering funding sources and issues
Structuring M/A/B Transactions -- managing general, tax, and accounting considerations
The Due Diligence Inquiry -- looking into the past, present, and future risks of the business to be purchased
Negotiating the Acquisition Agreement and the Letter of Intent-- understanding two vital documents in the M&A process
Closing -- synchronizing the many individual items to produce a harmonious transaction
Postmerger Integration and Divestitures -- following through after the M&A deal to capture the economic value of synergies
Special Issues for M&A in Public Companies_examining the unique legal and business considerations of public entities
Workouts, Bankruptcies, and Liquidations -- handling specific financial problems that arise in M&A transactions with entities in the zone of insolvency
Structuring Transactions with International Aspects -- developing the necessary skills and knowledge to do M&A deals across national borders
Filled with detailed examples and case studies, this updated classic also includes discussion of purchase accounting, Section 404, new legal cases with M&A implications, and more.
About the Author
---
Stanley Foster Reed has consulted on numerous global deals, including Allied Chemical, Gillette, and Seiko Watch. Alexandra Reed Lajoux is chief knowledge officer of the National Association of Corporate Directors and the coauthor of several M&A books. H. Peter Nesvold, C.F.A., C.P.A is a vice president of Bear Stearns. He has advised on M&A transactions for top companies such as America Online and Time Warner.