American Royalty: A Novel (Paperback)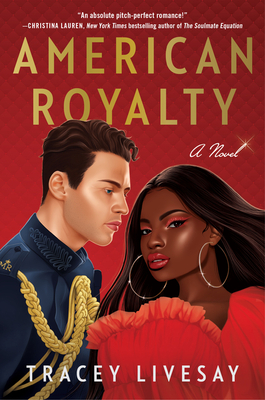 Staff Reviews
---
I ADORE THIS BOOK!!!!!! MUST READ!!!!! I LOVE Tracey Livesay's books!!! But she has outdone herself with this fireball! Danielle "Duchess" Nelson is a daring American rapper on the cusp of her big break. Prince Jameson is the quiet and studious academic who only attends royal functions when pressed. The Queen asks him to assist with a concert in her late husband's honor so the pop-clueless Prince asks a student for help. Who better to be a guest than a performer named "Duchess"? Sparks fly when Jameson discovers Dani might be a bit spicy for the Queen's tastes and both characters struggle to control their own destinies separately and together. This sweet, sexy fairy tale is an instant classic with rich, complex characters and room for these two to grow! Can't wait for the next one!!!
— From
Kelly
July 2022 Indie Next List
---
"A British Prince falls for an American Rapper? Yes, please! I adored the premise of this story and the characters were so lovable and fun. Highly enjoyed it and will be talking about it nonstop!"
— Jen Miller, Old Town Books, Alexandria, VA
Description
---
In this dangerously sexy rom-com that evokes the real-life romance between Prince Harry and Duchess Meghan Markle, a prince who wants to live out of the spotlight falls for a daring American rapper who turns his life, and the palace, upside down.
Sexy, driven rapper Danielle "Duchess" Nelson is on the verge of signing a deal that'll make her one of the richest women in hip hop. More importantly, it'll grant her control over her life, something she's craved for years. But an incident with a rising pop star has gone viral, unfairly putting her deal in jeopardy. Concerned about her image, she's instructed to work on generating some positive publicity… or else.
A brilliant professor and reclusive royal, Prince Jameson prefers life out of the spotlight, only leaving his ivory tower to attend weddings or funerals. But with the Queen's children involved in one scandal after another, and Parliament questioning the viability of the monarchy, the Queen is desperate. In a quest for good press, she puts Jameson in charge of a tribute concert in her late husband's honor. Out of his depth, and resentful of being called to service, he takes the advice of a student. After all, what's more appropriate for a royal concert than a performer named "Duchess"?
Too late, Jameson discovers the American rapper is popular, sexy, raunchy and not what the Queen wanted, although he's having an entirely different reaction. Dani knows this is the good exposure she needs to cement her deal and it doesn't hurt that the royal running things is fine as hell. Thrown together, they give in to the explosive attraction flaring between them. But as the glare of the limelight intensifies and outside forces try to interfere, will the Prince and Duchess be a fairy tale romance for the ages or a disaster of palatial proportions?
About the Author
---
A former criminal defense attorney, TRACEY LIVESAY finds crafting believable happily ever afters slightly more challenging than protecting our constitutional rights, but she's never regretted following her heart instead of her law degree. She has been featured in Entertainment Weekly, the Washington Post, and CBS This Morning. Tracey lives in Virginia with her husband-who she met on the very first day of law school--and their three children.
Praise For…
---
"Tracey Livesay delivers an authentic, sexy royal romance that we all desperately needed. An instant charttopper."   — Nisha Sharma, Award-winning Author
"Tracey Livesay gets better and better. With American Royalty, Livesay delivers a scandalous, absolutely swoon-worthy romance that injects a straight shot of joy right into readers' hearts. With a superstar heroine who knows her worth and isn't afraid to speak it, and a hero who falls crown-over-heels for her, just as he should, American Royalty is everything a royal romance should be…a sharp, sexy, romantic ride culminating in one of the finest happily ever afters I've ever read. Tracey Livesay is one of the very best."   — Sarah MacLean, New York Times Bestselling Author
"American Royalty is an epic romance that captivated me from the first page to the very last sentence. It's sexy, swoony, and heartfelt, and I didn't want it to end. I promise you: Dani and Jameson are going to knock your socks off!"   —  Mia Sosa, USA Today bestselling author of The Worst Best Man
"Livesay gives us a love story that is as deliciously swoony and scorching hot, as it is firmly grounded in the world we live in. Resonant, romantic and with swag for days...Duchess is the heroine I've been waiting for since I read my first romance in middle school."  — Adriana Herrera, USA Today Bestselling Author
"Tracey Livesay delivers a late summer firework with her second Girls Trip novel...Livesay delivers a triumphantly hot tale of a woman who refuses to make herself small – and the gift of a best friend and lover who champions that. Like Lovers Do is a celebratory intersectional feminist manifesto." — Entertainment Weekly
"Friends surrender to their desires during a scenic getaway in Livesay's outstanding second Girls Trip romance... The steady pace, smooth progression from friends to lovers, and natural, witty dialogue make this a winner. Readers will be wowed." — Publishers Weekly (starred review) on Like Lovers Do
"An exemplary friends-to-lovers romance with characters who grow and change to find happiness with themselves and each other." — Kirkus Reviews (starred review) on Like Lovers Do
"Smart, fast, funny and emotional. You will love Tracey Livesay!" — Kristan Higgins, New York Times bestselling author on Sweet Talkin' Lover
"Sweet Talkin' Lover, which launches the Girls Trip series, is powered by loads of lively dialogue, a generous serving of sassy wit, and an abundance of sizzling sexual chemistry that eventually ignites into some smoking hot love scenes. In addition to delivering all these romantic riches, this deeply delightful, diverse, contemporary romance is enhanced by a subplot involving women's friendship and a powerful celebration of the transformative power of love in all its guises." — Booklist (starred review)
"With American Royalty?, Tracey Livesay has written an epic romance worthy of a big-screen adaptation. I dare you to read this without doing a bit of fantasy-casting. Dani is fierce, savvy, and big-hearted - the perfect partner for Jameson, a man imprisoned by his own sense of duty and obligation. Together, they explode like all of the Fourth of July and Guy Fawkes Day fireworks have been set off at once, burning up the page from the moment they meet. For anyone obsessed with royalty or just looking for a perfect, modern-day fairytale, this book delivers." — Xio Axelrod, USA Today Bestselling Author of The Girl with Stars in Her Eyes
"This book was pure joy from start to finish! With the indulgent setting, the delicious steam, the sharp banter, and the deepest swoons, American Royalty is an absolute, pitch-perfect romance!"  
— Christina Lauren, NYT bestselling author of The Soulmate Equation