How Lucky: A Novel (Hardcover)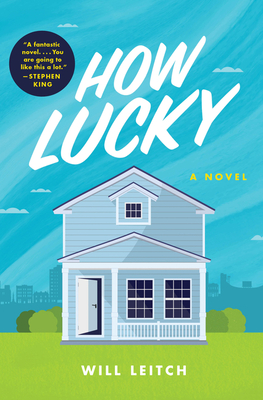 Staff Reviews
---
Daniel is a young man who spends his life like most young twentysomething males, behind his computer. His job lets him works from home, answering Twitter questions and complaints for a small airline. In the mornings he likes to sit outside and watch the wolrd go by his house in Athens, Georgia, close to the campus. One day he sees a young woman who passes by his house most mornings get into a car. He soon realizes he watched her get kidnapped.
Soon Daniel, who was born with a progressive disease that now has him confined to a wheelchair and unable to communitcate easily, is caught up in the mystery and the kidnapper's focus is now on him. This book is stunning, fun, and fast paced. Think Hitchcock meets The Curious Incident of the Dog in the Night Time. One of my favorite reads of 2021!
— From
Katie
Description
---
"A fantastic novel. . . . You are going to like this a lot."—Stephen King
"What's more thrilling than a fictional character speaking to us in a voice we haven't heard before, a voice so authentic and immediate—think Huck Finn, Holden Caulfield, Mattie Ross—that we suspect it must've been there all along, that we somehow managed to miss it?  Daniel, the protagonist of Will Leitch's smart, funny, heartbreaking new novel How Lucky, is just such a voice, and I'm not sure it will ever completely leave my head, or that I want it to."—Richard Russo

For readers of The Curious Incident of the Dog in the Night-Time and Nothing to See Here, a first novel as suspenseful and funny as it is moving, the unforgettable story of a fiercely resilient young man living with a physical disability, and his efforts to solve a mystery unfolding right outside his door. 
Daniel leads a rich life in the university town of Athens, Georgia.  He's got a couple close friends, a steady paycheck working for a regional airline, and of course, for a few glorious days each Fall, college football tailgates. He considers himself to be a mostly lucky guy—despite the fact that he's suffered from a debilitating disease since he was a small child, one that has left him unable to speak or to move without a wheelchair. 
Largely confined to his home, Daniel spends the hours he's not online communicating with irate air travelers observing his neighborhood from his front porch. One young woman passes by so frequently that spotting her out the window has almost become part of his daily routine. Until the day he's almost sure he sees her being kidnapped...
About the Author
---
Will Leitch is a contributing editor at New York magazine and writes weekly for the magazine, Intelligencer and Vulture. He also writes regularly for NBC News, The New York Times, The Washington Post, Medium and MLB.com and is the founder of the late sports website Deadspin. He lives in Athens, Georgia with his wife and two sons.  
Praise For…
---
"I'm reading a fantastic novel by Will Leitch called How Lucky. Publishes in May, I think. It's suspenseful and often wildly funny. You are going to like this a lot, and I think a lot of you are going to like it. It has that Where the Crawdads Sing vibe."
— Stephen King

"Not many writers can shift gears from hilarious to heart-rending to harrowing, all on the same page. Will Leitch does it again and again. How Lucky is one of the most original thrillers I've read in years, with an improbable hero that no reader will ever forget." 
— Carl Hiaasen

"What's more thrilling than a fictional character speaking to us in a voice we haven't heard before, a voice so authentic and immediate - think Huck Finn, Holden Caulfield, Mattie Ross - that we suspect it must've been there all along, that we somehow managed to miss it?  Daniel, the protagonist of Will Leitch's smart, funny, heartbreaking new novel How Lucky, is just such a voice, and I'm not sure it will ever completely leave my head, or that I want it to."  
— Richard Russo

"It's a testament to Will Leitch's ability that he can blend seemingly disparate elements – mystery and illness and humor and football –and come away with something so winning. How Lucky asserts that "the world is a terrifying place these days" and the novel explores those terrors quite convincingly, yet I was heartened by the depth of Leitch's writing, his obvious love for the world and what it could be. He imbues his hero with a kind of hopefulness that comes from seeing the worst and finding some way to keep living."
— Kevin Wilson, New York Times bestselling author of Nothing to See Here

"How Lucky is a gem: a riveting plot and a narrator who is charming, engaging, and downright inspiring. Will Leitch brilliantly juggles hilarity and horror. I loved this novel — every page."
— Chris Bohjalian, #1 Bestselling Author of The Flight Attendant and Hour of the Witch

"A lovely book. Set in Athens, Georgia, the novel is a model of verisimilitude.  It is also beautifully written and suspenseful, at the same time being all about goodness and caring without once being sappy, or, well, sentimental.  And that is a rare feat in fiction." 
— Booklist (starred review)

"An absorbing thriller with heart." 
— People

"A touchingly imagined portrait of friendship and community." 
— Sam Sacks, The Wall Street Journal

"Witty, vigorously written…How Lucky succeeds on more than just luck…Leitch builds his cast beautifully…Gives us an authentic, compelling portrait of a narrator who motors through the obstacle course of his life with grit and grace…" 
— Hamilton Cain, The Washington Post