Her Night with the Duke (Clandestine Affairs #1) (Mass Market)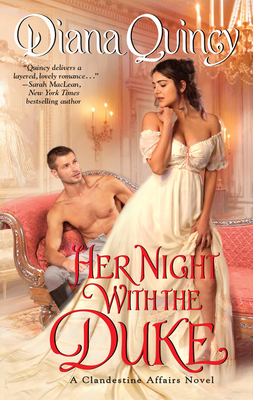 Other Books in Series
This is book number 1 in the Clandestine Affairs series.
Staff Reviews
---
A fast burn almost from the first page! Rawr! Quincy has become my new favorite immediately with this scorching Regency. Lady Delilah (Leela) Chambers and Elliot Townsend, the Duke of Huntington meet by chance in a roadside inn. Both unattached they spend a stormy anonymous night in the sheets. The next day they meet under different circumstances when Leela discovers the Duke is likely to become engaged to her stepdaughter! I know, right?!? Leela's Arab heritage is key to the story and adds fantastic historical detail and richness to the story. The duke, torn between duty and desire, is infuriating and irresistible. This is a must read!!!
— From
Kelly
Description
---
Desire knows no reason...
When Lady Delilah Chambers finds herself stranded at a country inn on a rain-swept evening, she's forced to fend off a group of ruffians with the help of a handsome gentleman. Irresistibly drawn to each other, Leela and the stranger spend one reckless night in each others' arms—and then go their separate ways. But the very next day Leela receives the shock of her life when she meets the duke who is set on wedding her beloved stepdaughter.
When it finds two destined hearts...
One night isn't enough with a woman as fierce, fiery, and brilliant as Leela. Elliot Townsend, Duke of Huntington, cannot believe his good fortune when their chance encounter leads to an unforgettable evening of passion. Yet Hunt's luck runs out when he is introduced to his prospective mother-in-law. Dowagers aren't supposed to look like this... 

Leela and Hunt are determined to keep each other at arm's length, which should be easy enough for two intelligent adults with reputations to uphold. The problem is all logic is lost when it comes to a passion that refuses to be ignored.
About the Author
---
Bestselling author Diana Quincy is a former television journalist who decided she'd rather make up stories where a happy ending is always guaranteed.
Diana grew up all over the world as the daughter of a United States Foreign Service Officer. Since her 2013 debut, Diana's books have landed on annual "Best of" lists in Library Journal and The Washington Post. Diana also writes the acclaimed Atlas Catesby historical mystery series as D.M. Quincy. 
Now happily settled in Virginia, Diana still gets the itch to explore far-off places. When she's not bent over her laptop, Diana reads, practices yoga and plots her next travel adventure.
Praise For…
---
"Vivid, bold, witty, and seductive! Diana Quincy is your new historical romance obsession." 
— Lenora Bell, USA Today bestselling author of Love is a Rogue

"Her Night with the Duke is an original story that will grab you from the first page and not let go. The angst level is deliciously high and I had no idea how Leela and Hunt were going to work this out... This is a book not to be missed!"
— Joanna Shupe, award-winning author of The Devil of Downtown

"...it's Quincy's extraordinary ability to convey complex emotions that sets the book apart. Quincy's own background as a first-generation Arab-American also allows her to bring indispensable detail to the story, which is enriched by details of Leela's journey to learn about, and come to appreciate, her "Levantine" heritage—a welcome addition..."
— Kirkus Reviews (starred review)

"Quincy cleverly incorporates much-loved genre tropes into the daringly sensual plot of her print romance debut, and this combined with the refreshingly original, boldly adventurous heroine, who fully embraces her Middle Eastern family origins, makes this marvelously entertaining love story the literary equivalent of catnip for historical romance fans."
— Booklist (starred review)

"Quincy ("Rebellious Brides" series) delivers a steamy Regency fraught with family discord as well as societal and racial prejudices. This gripping series starter ultimately triumphs with an honorable hero and a spirited Anglo-Arab heroine who fights for acceptance and love on her own terms."
— Library Journal (starred review)

Praise for Diana Quincy: "Sweet, steamy and thoroughly enjoyable..."

— Grace Burrowes, New York Times bestselling author

Praise for Diana Quincy: "Lovers of historical fiction could hardly do better than Diana Quincy…"
— Fresh Fiction