Sun Flower Lion (Hardcover)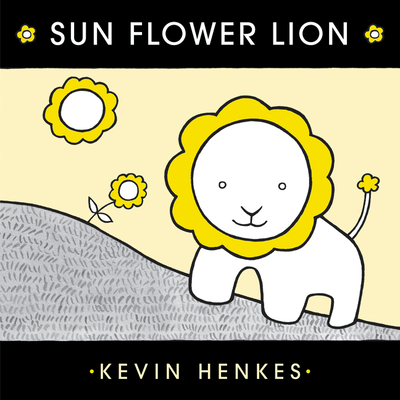 Staff Reviews
---
A tale that makes your heart as warm as the sun, Sun Flower Lion is just what it sounds like, the story of a lion, a flower and the sun. With monochromatic illustrations, "chapters" that consist of a dozen words, and all positive vibes, this is just the perfect feel good kids book. Besides the adorable drawings and plot line, this also helps kids with a good introduction into "chapter" books, and is full of strong verbs that help teach as well as entertain! The ideal bedtime story book, Henkes does it again with this modern day children's classic.
— From
Grace
Description
---
A sun. A flower. And a lion. With three visual motifs, three colors, and fewer than 200 words, renowned Caldecott Medalist and #1 New York Times-bestseller Kevin Henkes cracks open the wide world and the youngest child's endless imagination. This irresistible picture book is a must-have for every reader and every family.
On a warm morning, a little lion sleeps under a sun that shines so brightly, it looks like a flower. He dreams the flower is as big as the sun. He dreams the flower is a cookie. He lets his imagination soar.
Caldecott Medalist Kevin Henkes uses simple shapes, limited colors, and a pitch-perfect text to tell Lion's story in this transcendent picture book. Sun Flower Lion introduces emerging readers to short chapters, action verbs, and adjectives, while bright illustrations transform simple shapes into something magical. 
Sun Flower Lion will shine at story time and bedtime and for young children just learning how to read on their own.  
About the Author
---
Kevin Henkes is an award-winning author and illustrator of many books for children of all ages. He received the Caldecott Medal for Kitten's First Full Moon; Caldecott Honors for Waiting and Owen; two Newbery Honors—one for Olive's Ocean and one for The Year of Billy Miller—and Geisel Honors for Waiting and Penny and Her Marble. His other books include Egg, Old Bear, A Good Day, Chrysanthemum, and the beloved Lilly's Purple Plastic Purse. Kevin Henkes lives with his family in Madison, Wisconsin. www.kevinhenkes.com
Kevin Henkes is an award-winning author and illustrator of many books for children of all ages. He received the Caldecott Medal for Kitten's First Full Moon; Caldecott Honors for Waiting and Owen; two Newbery Honors—one for Olive's Ocean and one for The Year of Billy Miller—and Geisel Honors for Waiting and Penny and Her Marble. His other books include Egg, Old Bear, A Good Day, Chrysanthemum, and the beloved Lilly's Purple Plastic Purse. Kevin Henkes lives with his family in Madison, Wisconsin. www.kevinhenkes.com
Praise For…
---
"A sun, a flower, and a lion. . . . Henkes creates an impeccably designed story that's rewarding for toddlers and early readers alike. . . . With imagination at its center, this participatory read-aloud also cleverly introduces the concept of simile and metaphor. . . . As brilliant as can be."
— Kirkus Reviews (starred review)

"Masterfully employing brush and ink, with a striking color palette . . . Henkes creates a simple but thought-provoking story. Using panel illustrations, the book is divided into chapters, setting the pace of the narrative and helping the reader understand comparisons between items. . . . A perfect book for storytime reading or family bedtime sharing."
— Booklist (starred review)

"Meet the sun . . . a flower that looks like a lion; and a lion, who sees the flower and dreams about a field of them. . . . A perfectly paced picture book . . . An endearing, seemingly simple story with a wide-eyed and memorable protagonist, whose adventures will delight preschoolers and support and encourage those taking first steps toward reading."
— Horn Book (starred review)

"A white circle with a scalloped yellow border—is it the sun? A flower? A lion? It's all three. . . . A great pick for beginning readers. . . . With a return to a . . . limited color palette like that of Henkes's award-winning Kitten's First Full Moon, this is a must-have for all collections."
— School Library Journal (starred review)

"Simple words and repeating forms draw beginning readers into this iterative volume by Henkes. Its central visual element, a circle with a ruffled edge, could signify the sun, a flower, or a lion with a mane—and here, it's all three. . . . Yellow spreads convey warmth and light . . . in this lighthearted reading exercise."
— Publishers Weekly

"As demonstrated in A Parade of Elephants, Henkes is a master in rendering the simple fascinating . . . A story that's warm and . . . gently humorous. . . . Two-color art, in shades of black and yellow, centers on the ruffled yellow circle that is variously sun, flower, and face of lion. . . . Perfect as a title to delight pre-readers and offer satisfying read-along opportunities."
— Bulletin of the Center for Children's Books

"Highly acclaimed author and illustrator Kevin Henkes captures simple beauties of nature in his new picture book Sun Flower Lion. . . . This short, concise chapter book . . .  is easy to comprehend and features common things of interest to children ages four to seven, making it a perfect addition for homes and classrooms of preschool and early elementary school-aged students."
— Portland Book Review

"There's something new under the sun: Sun Flower Lion is a fresh spin on the traditional cumulative tale. . . . Imagination, not action, fuels the narrative. . . . [Henkes] spur[s] toddlers to look for similarities among images. The book concludes with a cozy, applause-worthy curtain call."
— Shelf Awareness