The Woman in the Window: A Novel (Hardcover)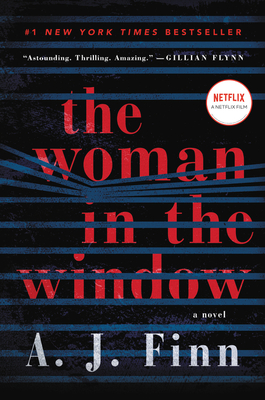 Staff Reviews
---
My first new favorite Thriller of 2018! Anna Fox has agoraphobia, and is homebound. Obsessed with old movies, especially of the Hitchcockian variety, and mixing her powerful meds with enough wine to make Cersei Lannister look like a teetotaler, Anna also spies on her neighbors, watching their lives unfold as a way to cope with her own non-life. She plays online chess, chats with other agoraphobics- doling out great advice that she can't apply to herself, and chugging wine.
Did I mention the wine drinking? Because Anna is thirsty, ya'll.
Anna has gone full on Jimmy Stewart in Rear Window (with a camera not binoculars), and spying on her new neighbors, the Russells, she thinks she sees a crime go down. But did she?
I really enjoyed the twists and reveals. Anna was easy to relate to because we spend so much time in her head. The care she shows for her online community, the reasons for her agoraphobia, her concern for Ethan (the neighbor's son), all of this had me rooting for Anna to, well, first put down the wine glass and brush the snarls from her hair, and then prove that she wasn't a raving lunatic (especially to that one cop who was all Judgey McJudgerson- we're the only ones allowed to judge Anna's excessive drinking!). And the fact that Anna references so many great movies is a definite plus in my book.
— From
Katie
January 2018 Indie Next List
---
"The Woman in the Window is being touted as one of the hottest releases of early 2018, and with excellent reason. A modern take on Hitchcock's Rear Window, with many nods to classic noir film, A.J. Finn's debut novel is told through the eyes of a narrator trapped inside her beautiful house by a severe case of agoraphobia and separated from her estranged husband and young daughter. She copes with her condition by spying on her neighbors and living vicariously through their drama, until the night she witnesses what appears to be a murder and finds herself swept up in its wake. Once this story gets rolling, it will bowl you over. Fans of psychological thrillers should take note of this banger of a tale!"
— Whitney Spotts, Schuler Books & Music, Lansing, MI
Description
---
The #1 Instant New York Times Bestseller – Soon to be a Major Motion Picture
"Astounding. Thrilling. Amazing." —Gillian Flynn
"Unputdownable." —Stephen King
"A dark, twisty confection." —Ruth Ware
"Absolutely gripping." —Louise Penny
For readers of Gillian Flynn and Tana French comes one of the decade's most anticipated debuts, to be published in thirty-six languages around the world and already in development as a major film from Fox: a twisty, powerful Hitchcockian thriller about an agoraphobic woman who believes she witnessed a crime in a neighboring house.
It isn't paranoia if it's really happening . . .
Anna Fox lives alone—a recluse in her New York City home, unable to venture outside. She spends her day drinking wine (maybe too much), watching old movies, recalling happier times . . . and spying on her neighbors.
Then the Russells move into the house across the way: a father, a mother, their teenage son. The perfect family. But when Anna, gazing out her window one night, sees something she shouldn't, her world begins to crumble—and its shocking secrets are laid bare.
What is real? What is imagined? Who is in danger? Who is in control? In this diabolically gripping thriller, no one—and nothing—is what it seems.
Twisty and powerful, ingenious and moving, The Woman in the Window is a smart, sophisticated novel of psychological suspense that recalls the best of Hitchcock.
About the Author
---
A. J. Finn has written for numerous publications, including the Los Angeles Times, the Washington Post, and the Times Literary Supplement (UK). A native of New York, Finn lived in England for ten years before returning to New York City.
Praise For…
---
"The Woman in the Window is one of those rare books that really is unputdownable. The writing is smooth and often remarkable. The way Finn plays off this totally original story against a background of film noir is both delightful and chilling."
— Stephen King

"The rocket fuel propelling The Woman in the Window, the first stratosphere-ready mystery of 2018, is expertise. . . . Dear other books with unreliable narrators: This one will see you and raise you."
— New York Times Book Review

"The Woman in the Window is a tour de force. A twisting, twisted odyssey inside one woman's mind, her illusions, delusions, reality. It left my own mind reeling and my heart pounding. An absolutely gripping thriller."
— Louise Penny, #1 New York Times bestselling author

 "There's something irresistible about this made-for-the-movies tingler. Finn knows how to pleasurably wind us up."
— USA Today

"Superior."
— New Yorker

"As the plot seizes us, the prose caresses us. . . [Finn] has not only captured, sympathetically, the interior life of a depressed person, but also written a riveting thriller that will keep you guessing to the very last sentence."
— Washington Post

"Astounding. Thrilling. Lovely and amazing....Finn has created a noir for the new millennium, packed with mesmerizing characters, stunning twists, beautiful writing and a narrator with whom I'd love to split a bottle of pinot. Maybe two bottles—I've got a lot of questions for her."
— #1 New York Times bestselling author Gillian Flynn

"Twisted to the power of max. Hitchcockian suspense with a 21st century twist."
— Bestselling author Val McDermid

"Compelling, wrenching, and gasp-for-breath exciting―I was blown away."
— #1 New York Times bestselling author Joe Hill

"A dark, twisty confection with an irresistible film noir premise. Hitchcock would have snapped up the rights in a heartbeat."
— New York Times bestselling author Ruth Ware

"The Woman in the Window is the most riveting thriller I've read since Gone Girl. A. J. Finn is a bold new talent with the touch of a master."
— New York Times bestselling author Tess Gerritsen

"Finn's debut lives up to the hype. . . . A riveting and mature first novel that stands out in a crowded genre."
— Library Journal [starred review]

"Gripping, compelling, and utterly intriguing."
— Liz Nugent, author of the 2017 BEA "Buzz Book" Unraveling Oliver

"The Woman in the Window reads like a classic Hitchcock movie in novel form, in fact I was half expecting a cameo. Dripping with suspense. Creaking with menace. Beautifully written. There's a lot of buzz around this book and every single bit of it is totally justified."
— Simon Toyne, bestselling author of the Sanctus trilogy

"This is a wonderfully dark, elegant thriller, evocative of Hitchcock and classic noir. Tense, twisty and so beautifully written. . . . An absolute one-sitting read."
— C. J. Tudor, author of the forthcoming thriller The Chalk Man

"Crackling with tension, and the sound of pages turning, as twist after twist sweeps away each hypothesis you come up with about what happened in Anna's past and what fresh hell is unfolding now."
— Kirkus Reviews

"[A] gripping first novel . . . genuinely surprising twists. . . . [R]eaders will eagerly turn the pages to see how it all turns out."
— Publishers Weekly

"Full of suspense and surprises and told with heart, The Woman in the Window will send readers racing through its pages. A stunning first outing from A. J. Finn, a tremendous new talent."
— Jane Harper, New York Times bestsellling author of The Dry

"The plot is very nearly airtight. . . . Finn never loses touch with the fear and insecurity of a woman who has suffered a great loss and feels alone in the world. . . . it's not a book that you can easily put down."
— Chicago Tribune

"This is thriller writing of a new order."
— Daily Mail (UK)

"[A] thrilling debut novel."
— Wall Street Journal

"[I]nhalable . . . highly enjoyable."
— Newsweek

"Smart, suspenseful and cinematic."
— AARP Magazine

"An astounding debut from a truly talented writer."
— Booklist (starred review)

"A nifty premise. . . pulled off classily."
— The Guardian

"Part of the pleasure of this kind of book is in observing an effective formula well-executed. And The Woman in the Window executes the formula it's set out for itself with as much panache as any mad scientist. This is a book you can eat like candy."
— Vox

"Woman in the Window is a modern-day Hitchcock film, and it's just as good… It's the perfect blend of past and present — just the book for thriller and horror fans, or anyone looking for a book they can't put down."
— Deseret News

"Finn's appreciable humor, remarkable diction and talent for storytelling make The Woman in the Windo  a fly-through read for many as the race to uncover the truth takes a shocking turn."
— Daily Mississippian

"Gripping and mesmerizing."
— RT Book Reviews

"Utterly addictive… You will read it in one night. It fizzes with excitement."
— South Coast Today

"The author of this psychological thriller pulls the rug out from under us more than once. If it's pure escapism you seek in a mystery, The Woman in the Window is just the ticket."
— The Missourian

"This novel was hard to tear myself away from, the poetic writing almost hypnotic.  This is a book that stays with the reader long after the final page has been finished."
— Crimespree Magazine

"What debut novelist A. J. Finn does with The Woman in the Window is remarkable. He's created a breathless, stunning twist-and-turn plot that cleverly relies on familiar scenarios, most of the Hitchcock kind, and builds the Hitchcock references into his own story."
— WSHU Public Radio

"[A]n edgy, intoxicating debut thriller… Already optioned to the movies, this book is a runaway bestseller – once you start it, you're not likely to get a good night's sleep!"
— Lansing State Journal

"This book defies description. After grabbing the reader's attention with the first sentence, Finn does not let go until the very last syllable."
— Courier-Times

"The surprise twists will keep you on edge and you won't regret any loss of sleep."
— Fredericksburg Free Lance-Star

"Smart, suspenseful and cinematic"
— Houston Chronicle

"Masterfully plotted and vividly told, THE WOMAN IN THE WINDOW draws readers into the maze-like mind of a very solitary woman, and unravels the external circumstances that have made her who she is. Entrancing, immersive, and unsettling."
— Crime By the Book

"The twists in this book are praiseworthy and the writing is a delight."
— Wicked Local North Shore Notes
Coverage from NPR