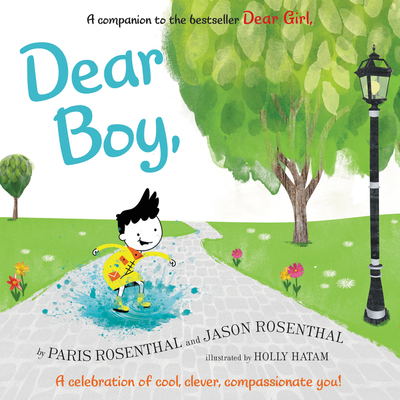 Description
---
The #1 New York Times bestselling follow-up picture book to the #1 New York Times bestseller Dear Girl, by beloved children's book author Amy Krouse Rosenthal and her daughter, Paris Rosenthal
Paris Rosenthal teams up with her father, Jason Rosenthal, the author of the Modern Love article "My Wife Said You May Want to Marry Me," to bring you the heartwarming and inspirational Dear Boy,.
Dear Boy, is an open love letter to the special boy in your life. Boys, too, need a gentle reminder that they are cool, clever, compassionate, and one of a kind.
With the same tenderness as Dear Girl,, Paris and Jason's charming text and Holly Hatam's stunning illustrations will make any boy reading this book feel that he's amazing just the way he is—whether he's offering a helping hand, singing in a choir, or reaching for the stars!
…be kind
…always trust magic
…and pursue your dreams.
About the Author
---
Paris Rosenthal attends Quest University, a liberal arts school near Vancouver. She was the first woman in her high school to play on the men's basketball team, earned a black belt in Tae Kwon Do with her father, and started a cancer support group at her college. Paris enjoys playing soccer, listening to music, writing, organizing, and making things. Her favorite project was working on the book Dear Girl, with her mother.
Holly Hatam is a girl who sometimes likes to wear something pink and sparkly and sometimes dons a cape and fights dragons. Some days her heart may seek wild adventures, but other days she just wants to be a couch potato. She is the illustrator of Dear Girl, and Dear Boy, and What Matters. Holly lives in Whitby, Ontario, with her wacky husband and even wackier son.
Jason Rosenthal is a dad, a lawyer, a yogi, and an artist, and Dear Boy, is his first book. He delivered a TED Talk about moving through the loss of his wife of twenty-six years, Amy Krouse Rosenthal. He also penned a Modern Love column for the New York Times. Jason is  filled with joy at the opportunity to work with his daughter, Paris, on the follow-up to Dear Girl, a book she wrote with her mom.
Praise For…
---
"Raising and nurturing tiny humans, regardless of gender, is a difficult task—this stands as a reminder that love should be always present."
— Kirkus Reviews