A Fairy-tale Ending: Book One of the Charming Tales (Mass Market)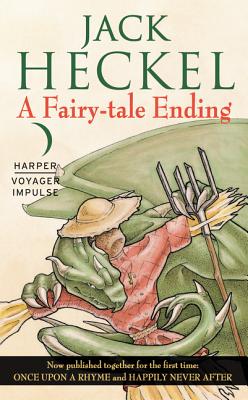 $6.99
Not available for purchase
Description
---
Collected for the first time, A Fairy-tale Ending comprises two volumes of Jack Heckel's Charming Tales: Once Upon a Rhyme and Happily Never After to become the first full novel in the Charming Tales series.
Prince Charming had one destiny: to slay the dragon and save the princess. Both have been achieved, except there's a problem: Charming had nothing to do with either. A farmer named Will Pickett succeeded where royalty had failed—and this simply will not stand.
Thus begins an epic adventure that has Prince Charming and Will Pickett vying with each other for the throne by challenging trolls, outwitting scoundrels, and facing all manner of fairy-tale creatures. All the while a dark sorcery envelops Castle White, and Will's sister Liz and her friend Lady Rapunzel uncover a threat to the kingdom.
The fate of Royaume hangs in the balance as Charming tries to salvage his reputation, and the clock is ticking…
About the Author
---
Jack Heckel's life is an open book. Actually, it's the book you are in all hope holding right now (and if you are not holding it, he would like to tell you it can be purchased from any of your finest purveyors of the written word). He is the author of the Charming Tales series and The Dark Lord. Beyond that, Jack aspires to be either a witty, urbane, world traveler who lives on his vintage yacht, The Clever Double Entendre, or a geographically illiterate professor of literature who spends his non-writing time restoring an 18th century lighthouse off a remote part of the Vermont coastline. More than anything, Jack lives for his readers.