Rabbit: A Memoir (Paperback)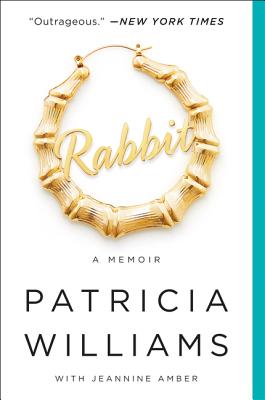 Staff Reviews
---
Ms. Pat's story is nothing short of unbelievable.  Two kids and a successful crack dealing business by the time she was 15, this is a story of an imperfect journey from a hopeless situation to success.
I think everyone needs to read Ms. Pat's book to understand the realities that some kids have to deal with every day and how the belief and support of a few key people can sometimes make all the difference.  Williams has spun her terrifying upbringing and early adulthood struggles into a compelling, hilarious, and scary tale.  I want everyone to meet Ms. Pat!  I enjoyed it via our digital audiobook service Libro.fm.  I recommend you try it that way or come by and get the paperback from us! 
— Kelly
Description
---
Finalist for an NAACP Image Award for Outstanding Literature
Finalist for a 2018 Southern Book Prize for Biography and History
"An absolute must-read" – Shondaland
"[Rabbit] tells how it went down with brutal honesty and outrageous humor" – New York Times
"I know a lot of people think they know what it's like to grow up in the hood. Like maybe they watched a couple of seasons of The Wire and they got the shit all figured out. But TV doesn't tell the whole story." – Ms. Pat
They called her Rabbit.
Patricia Williams (aka Ms. Pat) was born and raised in Atlanta at the height of the crack epidemic. One of five children, Pat watched as her mother struggled to get by on charity, cons, and petty crimes. At age seven, Pat was taught to roll drunks for money. At twelve, she was targeted for sex by a man eight years her senior. By thirteen, she was pregnant. By fifteen, Pat was a mother of two.
Alone at sixteen, Pat was determined to make a better life for her children. But with no job skills and an eighth-grade education, her options were limited. She learned quickly that hustling and humor were the only tools she had to survive. Rabbit is an unflinching memoir of cinematic scope and unexpected humor. With wisdom and humor, Pat gives us a rare glimpse of what it's really like to be a black mom in America.
About the Author
---
Patricia Williams, the fifth child of an alcoholic single mother, came of age in Atlanta at the height of the crack epidemic. At 12, she had her first boyfriend; by 15 she was a mother of two. Williams wanted to give her children the kind of life she'd always dreamed of, but with no education or job skills her options were slim. Thus began Williams' lucrative career as a drug dealer. After numerous run-ins with the law and a stint behind bars, Williams decided to turn her life around. She now goes by the stage name Ms. Pat and enjoys a successful career as a comedian. Williams lives in Indianapolis with her husband and three children.
Award-winning journalist Jeannine Amber lives in Brooklyn with her daughter, Niko.
Praise For…
---
"Rabbit tells how it went down with brutal honesty and outrageous humor in unexpected places."
— New York Times

"Unforgiving and darkly hilarious."
— Washington Post

"Rabbit feels like you are sitting in Williams' living room, listening to her tell story after story over a cup of coffee. Somehow she's managed to pull hilarity out of heartache. And when you are done laughing, you rejoice, her final words ringing in your ears."
— USA Today

"This is, in short, a humdinger of a memoir – mesmerizing"
— Buffalo News

"Her story is one that dares everyone reading it to dream bigger." 
— Bust Magazine

"Riveting…this is one autobiography that should not be missed."
— Huffington Post

"Ms. Pat, gives readers insight into what it's really like to be young black woman growing up in America."
— TODAY.com

"Both savagely honest and often genuinely funny, this is the story of how a resilient woman survived a harrowing early life and found unexpected salvation through humor."
— Kirkus

"As heartbreaking as it is darkly hilarious, Rabbit will make you wipe away both tears of joy and sorrow...a memoir filled with wit and wisdom...Honest, poignant, and laugh-out-loud funny, Williams' book is an absolute must-read."
— Shondaland

"An extraordinary memoir…[Rabbit] is both uproariously funny and heartbreakingly sad… Despite all the difficult parts, Ms. Pat's story reminds us that redemption is always possible, and that love and humor can heal all wounds."
— Fredericksburg Free Lance-Star

"I pounced on [Ms. Pat's] book. And I thought she did such a great job...God, [Rabbit] was entertaining. And I recommended it to so many people." 
— David Sedaris, author of the New York Times bestseller Calypso

"Like Ms. Pat, I grew up in the hood during the crack epidemic, but I've never read anything like Rabbit. I didn't know a story this sad could make me laugh so hard. That's the comic genius of Ms. Pat!"
— Loni Love, co-host of The Real

"People say "I laughed and I cried" and it sounds like a cliché. But Rabbit really took me there. It's everything—poignant, heartbreaking and hilarious—all at once. I couldn't put it down."
— Lee Daniels, creator of Empire

"She was able to elevate her personal stories of horror, sadness, violence, insanity into something that people can understand and relate to and see into a world that many of us don't know."

— Marc Maron