Pound for Pound: A Biography of Sugar Ray Robinson (Paperback)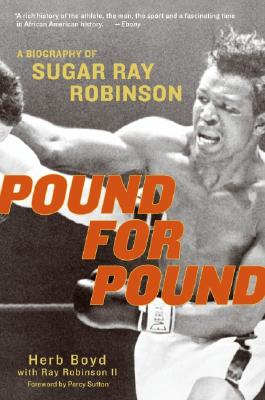 Description
---
Hailed by critics as a long overdue portrait of Sugar Ray Robinson, a man who was as elusive out of the ring as he was magisterial in it, Pound for Pound is a lively and nuanced profile of an athlete who is arguably the best boxer the sport has ever known. So great were Robinson's skills, he was eulogized by Woody Allen, compared to Joe Louis, and praised by Muhammad Ali, who called him "the king, the master, my idol." But the same discipline that Robinson brought to the sport eluded him at home, leading him to emotionally and physically abuse his family -- particularly his wife, the gorgeous dancer Edna Mae, whose entrepreneurial skills helped Robinson build an empire to which Harlemites were inexorably drawn. Exposing Robinson's flaws as well as putting his career in the context of his life and times, renowned journalist and bestselling author Herb Boyd, with Ray Robinson II, tells for the first time the full story of a complex man and sport-altering athlete.
About the Author
---
Herb Boyd is a journalist, activist, teacher, and author or editor of twenty-three books, including his latest, The Diary of Malcolm X, edited with Ilyasah Al-Shabazz, Malcolm X's daughter. His articles have been published in the Black Scholar, Final Call, the Amsterdam News, Cineaste, Downbeat, the Network Journal, and the Daily Beast. A scholar for more than forty years, he teaches African American history and culture at the City College of New York in Harlem, where he lives.
Ray Robinson II is an independent producer who is currently in the process of establishing a museum in honor of his mother and father.
Praise For…
---
"Admiring biography that neither glosses over nor dwells on [Ray's] not-always-great behavior outside the ring." — Kirkus Reviews
"A rich history of the athlete, the man, the sport and a fascinating time in African American history." — Ebony
"An informative account of the life of Hollywood-handsome middleweight champion Sugar Ray Robison." — Essence
"A nuanced, sensitive, critical, and definitive biography of arguably the greatest boxer of all time." — --Kevin Powell, author of Who's Gonna Take the Weight? Manhood, Race, and Power in America